Our House: A house of representatives should, ideally, be ...
International perspectives on democracy: Commonwealth heads of government leaders said in their ...
Electing Parliament: The MPs and the political parties in New Zealand's Parliament are elected ...
Members of Parliament: In the 27 July 2002 general election, Labour gained 52, National 27, New Zealand ...
Forming the government: The Labour and Progressive Coalition Parties in Parliament have agreeed ...
Composition of Parliament: New Zealand's Parliament is a place where more and more sections ...
The New Zealand Business and Parliament Trust: The New Zealand Business and Parliament Trust was formed in 1991 to bridge ...
The role of the speaker: The Speaker of the New Zealand House of Representatives is the highest officer ...
Who drafts the laws? To make sure laws ar written correctly, Parliament has ...
The Office of the Clerk: The position of Clerk of the House of Representatives is one of the oldest ...
Parliamentary Service: The Parliamentary Service is one of two parliamentary agencies providing ...
What MPs do: Conventions, not job descriptions, guide what ..
MP's pay: Members of Parliament currently receive a ....
Living two lives: John Key, aged 41, National MP for Helensville, was an investment ...
From Youth MP to youngest MP: Darren Hughes, at 24 New Zealand's youngest ...
Government and Opposition: There is a tradition of thinking that asserts that ideas change with ...
How laws are made: Parliament is New Zealand's supreme law-making body. It's members study ...
Select committees: After a bill is introduced to Parliament and has been given its ...
Petitioning Parliament: Every New Zealand citizen or resident has the right to petition Parliament ...
Visiting Parliament: People come for many reasons to tour New Zealand's Parliament ...
150 years: The New Zealand Parliament celebrates its 150th ...

Petitioning Parliament
Ancient tradition
Modern petitions
How to do it
Every New Zealand citizen or resident has the right to petition the House of Representatives to address a grievance or change a policy.
Ancient tradition
The tradition of petitions to Parliament is very old. It goes back to medieval Britain – long before New Zealand's Parliament first met in 1854.
When the early English Parliaments identified an injustice they wanted to correct, they would petition the King for action. If the King and his Council agreed to act on the petition, they would send back a written reply. These replies came to be regarded as decrees or statutes having the force of law.
Over time, Parliament became increasingly specific about what it desired. Instead of sending a petition, it would send a 'bill' to the King, listing all the actions it wanted.
In modern New Zealand, Parliament still sends bills to the Governor-General (who represents the Queen). When he or she signs these, they become Acts of Parliament.
Modern petitions
New Zealand's Parliament allows any New Zealander to make a petition to the House of Representatives on any subject – provided they have first
tried all other methods to redress their grievance. The House is advised of the petition and it is then referred to a select committee for study. Select committees can report back to the House with a recommendation on what action should be taken. Often petitions are referred to the Government for its consideration. The Government must then report to the House on what action it will take.
A petition may or may not have any practical consequence, but making it does ensure that your opinion or grievance is heard and is given some thought by Members of Parliament.
How to do it
To make a petition to the House of Representatives, obtain information from the Office of the Clerk. This sets out the rules you must follow on how your petition must be worded and who can present it. Don't start gathering signatures until you have read this information!
Find out more!
Office of the Clerk of the House of Representatives
Parliament Buildings
Wellington
Tel: (04) 471 9999 extn 8194
Fax: (04) 473 2439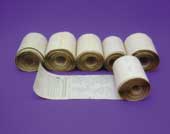 This petition of 30,000 signatures, presented to Parliament in 1892, called for women to be granted the right to vote. It helped to make New Zealand the first nation in the world to extend the vote to women.